Depending on your palate and preferences, Whiskey can be cheap (and sometimes nasty) or expensive (and sometimes delicious).
Dramwears has done the research, discover the world's most expensive scotches and what they recently sold for at auction!
If you have a penchant for the finer things in life – and too much money to know what to do with – check out the list below of the most expensive scotches ever sold at auction.
5. Glenfiddich Janet Sheed Roberts Reserve (1955) - $94,000
This bottle is named after the company's founder, Janet, who passed away at 110. Only 15 bottles were made, with only 11 available for purchase. All 11 bottles have been sold.
Described as being the epitome of smoothness, the Janet Sheed Roberts Reserve has a light and woody oak flavour, with hints of barley, hay, pear and heather with a faintly spicy finish.
4. Dalmore 64 Trinitas (1946) - $160,000
Only three bottles of this single malt scotch were ever released – making demand for this scotch high. The scotch is a blend of the Dalmore 62 and a 1940's vintage scotch. The 62 blend was allegedly a composite of whiskey's, with one dating back to 1868.
The Dalmore 64 Trinitas (1946) has a complex flavour profile, including sweet raisin, bitter orange, crushed walnut and Columbian coffee with subtle hints of grapefruit, patchchouli, sandalwood and white musk.
3. Macallan's Lalique Cire Perdue (1946) - $460,000
This scotch is a single malt with the batch coming from sherry-seasoned Spanish oak.

A unique combination of flavours, the flavour is complex with initial tastes of peat smoke, cedar wood, muscovado sugar, orange peel, cinnamon and cloves, transitioning into tastes of blood orange, cocoa, rosin, walnuts and treacle.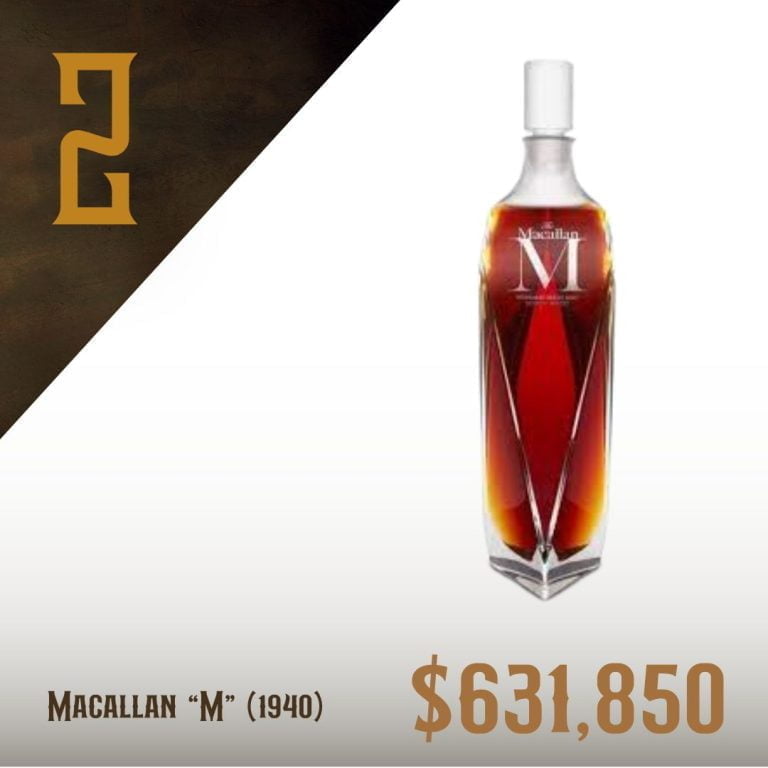 2. Macallan "M" (1940) - $631,850
The Macallan M is a single malt that has been matured for over 70 years (a very long time when most fine scotches are aged for 25).
This scotch is rich in a raisin and resin flavour, with fruity and cherry undertones. It has subtle tastes of cedar, apple, lemon, violet and leather with a tobacco finish.
1. Isabella's Islay - $6,200,000
Vastly more expensive than the previous 4 scotches, Isabella's Islay's bottle is part of the reason for the price. The decanter itself houses 8,500 diamonds and 300 rubies.
This single malt comes from Islay, one of the Inner Hebridean islands.
Unfortunately, we cannot tell you what it tastes like as no-one has tried it. The bottles are available for sale and given the cost of the decanter – refills of its scotch contents are also available for purchase.